Events
Release your inner Robin Hood! We offer exclusive Indoor Target Archery Events for groups of 10 to 50+ people. We offer events at two great venues - both close to London Bridge - with options for daytime, evening and weekend bookings.
We offer 3 event packages from £29 per person. We also now offer Archery Tag (Combat Archery with patented SAFE arrows!) - take a look at our main Archery Tag page for more information.
We are fully insured, risk assessed and while we are very safety conscious we also go for quite a relaxed, laid-back approach. You don't need to bring any special equipment as we provide everything you need.
Our costs are completely inclusive, no hidden charges or add ons!
We can offer event bookings every weekend, Monday & Wednesday evenings* (see below), occasionally on Thursday evening, every weekday (finish before 6pm) and on Friday evenings. We are happy to check with the venues that we use if the time and date you require is not covered above.
We're also currently looking for new venues where we can host indoor target archery events and Archery Tag - if you know of anywhere please do let us know! If you haven't yet heard of Archery Tag it's Hunger games style combat archery played with non-lethal arrows! Dodgeball with arrows!! As much fun as it's possible to have with a bow and arrow.

*On Monday and Wednesday evenings we offer group archery events alongside our regular club shoot for groups of 6 to 14 people (please email us if you wish to bring less than 10 people as the online booking is auto-set for a minimum of 10). If you have a group of 15+ we can offer exclusive use of the hall on these evenings.

Target Archery Events may be held at one of two indoor venues that we use in the London Bridge Area. We use the Downside Centre on Druid Street for daytime and weekend bookings. We're also now able to offer evening events at Harris Academy on Southwark Park St.
More details and directions are available on the Find Us page.
Check Dates and Prices!
1 Hour Basic Group Lesson - £29pp
Lasts for 1 hour, includes equipment, tuition and insurance. We'll show you the ropes, guide you through shooting your first few arrows and then give you a bit of practice time to really get a feel for this traditional, yet ultra-modern (did you see the Olympians' gear?) sport.
Minimum group size of 10 people.
Book Now!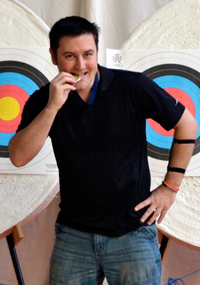 1.5 Hour Event with Final Competition - £35pp
This is our most popular package as everyone loves a competition! The event lasts for 1.5hrs, includes equipment, tuition, insurance and a final competition with medals and a team trophy. As in the introductory lesson we'll help you to get started then we'll give you a bit of extra coaching to guide and develop your technique. This leads to a grand finale where we teach the group how to score and host a shoot-off. Archery medals and team trophy provided.
Minimum group size of 10 people.
Book Now!
3 Hour Extended Event with Champagne Prize - £49pp
The gold event lasts for up to 3hrs and includes everything in the silver package but with an extra hour of practice time and upgraded prizes including champagne! An example itinerary would be:
3pm - arrive and listen to safety briefing
3.10pm - equipment is handed out and explained
3.15pm - demonstration of correct archery technique by instructor
3.20pm - individual coaching for first 3 arrows for all participants
3.40pm - group practice begins with tips and pointers from instructors
4.15pm - archery game to help improve accuracy
4.30pm - start of 30 arrow shoot-off competition
5.45pm - the session is brought to an end with final scores, prize ceremony and photos
Book Now!