the team
We have a small friendly team of instructors so you may variously come across Roger, Diccon, Cuong (pronounced Kung), Katie, Eilidh (pronounced Ay-Lee), Kai, Jayde or Louise (or any combination thereof!) leading your session. Heidi, Asher and Martha hang out behind the scenes!

We all have a lot of experience at instructing archery and have a range of qualifications – including archery leaders courses, Archery GB Level 1, Level 2, first aid training and specialist courses in coaching the disabled. We all have enhanced CRB certificates.
Heidi Nicholl
Heidi has been with 2020 Archery since 2008 having learnt archery and shot with Hampstead Bowmen since around 2003. As senior coach in the club she doesn't have much time to shoot any more but when opportunity arises she favours a matt black W&W ExFeel recurve bow or a - somewhat less accurate - longbow.
Heidi is a Level 2 qualified Archery GB coach and was London County Coaching Officer 2009 – 2010.
You'll often find Heidi behind the wheel of the garish 2020 camper van that you can see around the club.. as well as camping Heidi has her 1 star kayak certificate having been submerged fully clothed in the Thames twice in March.
Diccon Harper
Diccon has been shooting with 2020 since September 2011 and has an Archery Leaders certificate as well as his Archery GB Level 1 coaching badge. You will usually find him teaching at the club on Saturdays, and Wednesdays - you'll also often see him leading Have a Go sessions and our popular silver events.
Diccon currently shoots sighted recurve on an old fashioned Quicks Tudor bow which he loves - he's also keen to get into traditional longbow archery in the future.
When he isn't shooting, or teaching people how to shoot, Diccon builds electric guitars and basses and then plays them in noisy bands.
Roger Huggins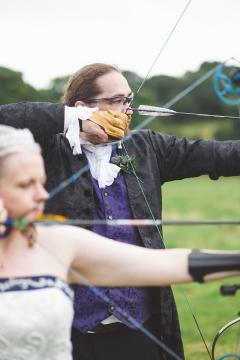 Roger Huggins has his Level 1 Archery GB archery coaching badge and has completed most of Level 2. He is historical archery enthusiast who has a collection of historic bows and bows from different parts of the world all of which he regularly shoots. He can sometimes be seen shooting his traditional English longbow or Mongolian horsebow but is currently practicing hard with a sighted recurve.

Roger also takes part in competitive European Long and Short Sword fighting presumably with the view of one day becoming a knight (I'm not sure sword fighting and archery are still required but maybe they'll help). Roger has a degree in computer science from Sheffield University where he was an active member of the University Archery Club. He is currently working on an archery app in his spare time.
Cuong Hua

Cuong joined 2020 archery in 2013. When he's not coaching archery he's busy working as a personal trainer, boxing instructor and also running his calisthenics workshops. He has built up an impressive list of qualifications from the World Calisthenics Organisation and as a Strength Matters Kettlebell Instructor, to name but a few!
Katie Hoskins

Katie joined 2020 Archery in January 2013 working mainly with the Junior Club which she thoroughly enjoys. She is keen to see the progression and development of all the young archers we have coming through. Katie achieved her Archery GB Level 1 coaching qualification in 2014 and hopes to progress through the other levels. She has worked with children for the last 15 years and has extensive experience of working with children with SEN, particularly ASD. She is passionate about the value of education in all its guises.
Kai Doole
Kai is an NVQ tutor and is qualified in various water sports. He loves to coach archery and is also a keen climber, mountain biker and martial artist, approaching his black belt in Japanese Jujitsu. Kai is also studying towards a sports coaching degree with the open university.
Louise Preedy
Louise joined 2020 in the Summer 2015, she holds Archery GB Instructor award and has been instructing archery on a volunteer basis with the Scouts for 18months. She really enjoys teaching young people and adults at the Junior Club, Have a Go sessions and Archery Tag events. In her spare time Louise likes to embrace her passion for being outdoors by taking part in activities such as rifle shooting, hill walking, fishing, camping, off-roading and pedal karting to name a few. She also holds a BA in Photography and has recently qualified as a Pole Fitness instructor.
Jayde Farinha
Jayde is in her second year of an Anthropology degree at the University of East London. Before joining 2020 she coached competitive swimming and rifle shooting as well as taking part in the sports herself. If she's not holed up in her room doing uni work she likes going for walks and bike rides in the green spaces in London, as well as wandering around the city in search of cheap coffee.
FreeIndex Loading...